Start Your Own Business with Fantastic Services in Australia
Join our family of franchisees today! Become a franchise business owner!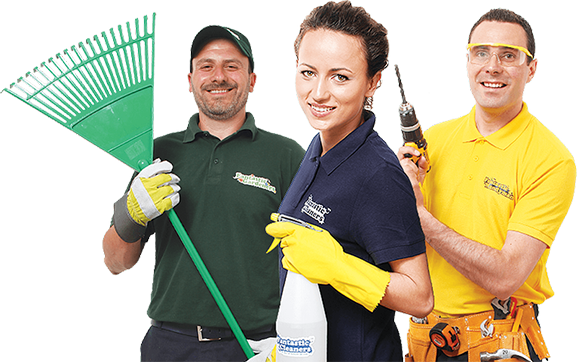 Why should you become our franchisee?
As our franchise partner, you'll be able to develop your business by investing in a proven franchise model that takes all risks associated with an independent startup out of the equation.
We will develop a customised franchise plan for you, which matches your individual needs, skills and financial resources. With us, you'll be on the path to business success and profit growth from day one!
Investment plan
We can provide you with a no interest financial support, as well as help you get a suitable vehicle and the required equipment on lease. In addition, the returns on your initial investment are secured through our comprehensive marketing support and efforts to ensure that you have guaranteed jobs every week.
Full-service Training
You'll be given various training opportunities at our Fantastic Academy, from onsite support and weekly webinars in the first three months to individual coaching with our franchise consultants. You will learn to love the Fantastic Quality Standard and improve your customer service skills.
BeFantastic App
Through our easy-to-use mobile app, designed to help each franchisee, you'll be able to check the daily schedule and availability in real time, as well as accept or decline the available jobs for your location. You can communicate with your teams, clients and with the office, and manage your business on the go.
Guaranteed Weekly Turnover
We ensure that you enjoy a guaranteed weekly turnover, based on the type of franchise package you opt to invest into. We will personalise your franchise plan to suit your availability and business growth goals, as well as to match the experience you have in the respective service industry sector.
Booked Jobs
Our sales and customer service teams work hard and round the clock to make sure that you have a guaranteed and steady flow of customers. We will book jobs for you, according to your availability, which you can accept, decline, up-sell and cross-sell in a matter of minutes.
Bonus Program
We offer a range of opportunities to get additional earnings through our fair and effective bonus scheme. For upselling and cross-selling our services, you will enjoy lower commissions and earn bonuses. And you'll get a fixed bonus when you receive positive customer reviews.
Our Franchise Opportunities
By joining a trusted and recognisable brand as Fantastic Services, you'll be able to build your business with the full support of dedicated teams of professionals. We have years of experience in forging mutually beneficial relationships with our franchise partners while serving customers in Melbourne, Sydney, Perth and soon, in Brisbane, to their utmost satisfaction. If you are interested in joining forces with us and investing in a winning business formula, opt for one of our franchise opportunities today!
Become a Gardening Business Owner in Australia
Booked jobs and secure turnover
A guaranteed business (5 years)
Customised investment plan
Full support and training
Gardening Franchise
When you join our Fantastic Gardeners' franchise program, you will discover that becoming a business owner has never been easier. Why? Because our franchise model comes with a difference!
We'll provide you with full training and ongoing support to get your gardening business going so that your investment starts paying off from day one! Our marketing, sales and franchise consultants' teams will be there for you every step of the way. And that's not all! You'll enjoy a full weekly schedule with booked jobs that match your qualifications and experience.